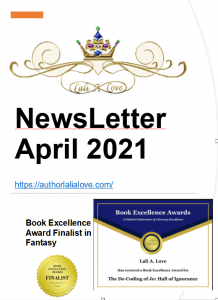 Thank you for subscribing to my Newsletter and welcome to my monthly Author updates, where I share my publishing journey and exciting events!
∞ Happy Indie April! I am super grateful that The De-Coding of Jo: Hall of Ignorance has received a Book Excellence Award and is a finalist in the Fantasy category. Thank you to everyone that has read and supported my first book in the Ascending Angel Academy (AAA) series. Please remember to leave a review and don't miss my promos and giveaways all month long. The e-book is currently on sale for 0.99!
∞ I've been in my writing cave finalizing the manuscript for the second book in the AAA series, Blade of Truth, releasing in July 2021. I'm currently in the final stages of editing and designing the front cover with my graphic artist, Larch Gallagher. You won't want to miss this incredible cover reveal, coming soon!
∞ I was one lucky guest invited to chat on The Edge Radio Talk show on March 25th to discuss my books. Thanks to Michael and Richard for having me on the Florida radio waves, they were both amazing hosts! I totally appreciate their support for my poetry collection, Ananda: Poetry for the Soul.
∞ If you are interested in beta reading or receiving the ARC for Blade of Truth (2 spots left), please email me at
with your request.
∞
SPOTLIGHT:
∞ Don't forget to check out the Writing Community Chat Show's Monthly Newsletter, supporting and showcasing poets who wish to share their work, under Love's Soul Food. If you would like to feature your poem, please subscribe and submit your entry to
.">
.
∞ I had the pleasure of reading The Gravity of Shooting Stars by the fabulous Author Ash Knight. Check out my 5-star review of this captivating and riveting book, it's a must read! https://www.goodreads.com/book/show/56384111-the-gravity-of-shooting-stars
∞ I absolutely enjoyed reading Author A. C. Merkel's contemporary fairy tale, Her Name is Murder. Check out my 5-star review, I can't wait to read the next book in the series! https://www.goodreads.com/book/show/50416051-her-name-is-murder#other_reviews
Unsubscribe if you do not wish to receive future emails from Lali A. Love.